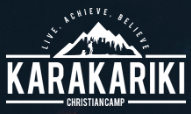 Karakariki Christian Camp
Waikato
Physical Address: 471 Karakariki Road, RD9, Hamilton
Phone: 07 8298665
Email: office@campkcc.org.nz
Website:
campkcc.org.nz
Managers: John and Haley McNickle
KCC exists to provide a venue designed to help youth & children develop physically, emotionally, socially and spiritually. They strive to provide an affordable, yet adventurous experience for all those that stay at KCC.
KCC is a fantastic place to bring your school group, church group, or youth group. Bring your family for a reunion, your friends for a get-together and have a blast!

Whether you would like to cater or have catering provided, use the facilities, or make use of the activities, do duties or have them done for you - they can assist in creating a programme that suits your specific group.
SKU: 100194